Some links you may find useful:
​​
(Listen to your part online)
​
​
​
(Online ordering: music/CDs)
​
​
​
(The National Federation of Music Societies)
​
​
​
(Free choral sheet music downloads)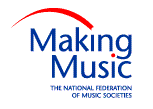 ​Based in the ancient village of Fletching, near Uckfield, we have performed a wide variety of choral music in mid-Sussex for over 30 years - from folksongs to Latin Masses - and have built up a large and loyal following in the local community.
Why Not Join Us?
We always welcome new singers, and invite you to come to one of our rehearsals for a sing to help you decide whether you'd like to become a member.
​
You can get in touch via our Contact page...